AMI designed Fire-Tek balustrade - NHBC accepted Fire rated structural glass balustrade
Contact us to discuss both your current and planned projects
Venus - Structural Glass Range
Our Venus balustrade range adds clean lines to any stair, terrace, balcony or pool with our state-of-the-art frameless solution that can be manufactured for either internal or external use.
Design is totally flexible and is tailored bespoke to your requirements providing a durable and easy to maintain solution that is widely used on luxury developments.
---
Existing PFC balcony channel shown in example could be any steel section or concrete base. If attaching to concrete floor which is not solid concrete ie, hollow deck or steel tray and concrete then it may be a requirement that the base channel has bolts passing through the deck and secured with washer plates.
All balustrades manufactured by A.M.I. comply to current building regulations or as instructed by the clients architect.
A.M.I. stairs & balustrades will typically comply with approved document "k" or "m" from the building regulations and b.s. 6180:2011. Balustrades will adhere to D.D.A. rules when specified.
Typical through section: extrusion fitted in lengths across min three panels and secured with appropriate adhesive.
Materials
Mild Steel
100*12 FLT
110*12 FLT
120*12 FLT
21.5mm Clear Heat Soaked Toughened Laminated Glass
Stainless Steel
Satin Finished 1.5mm
Bent Up Trims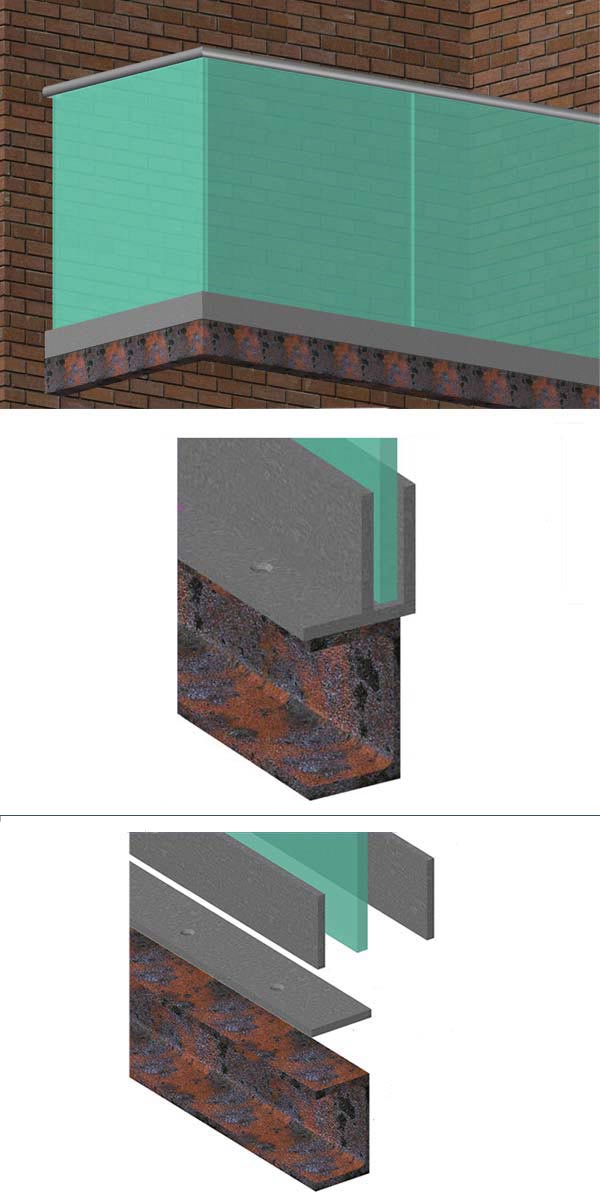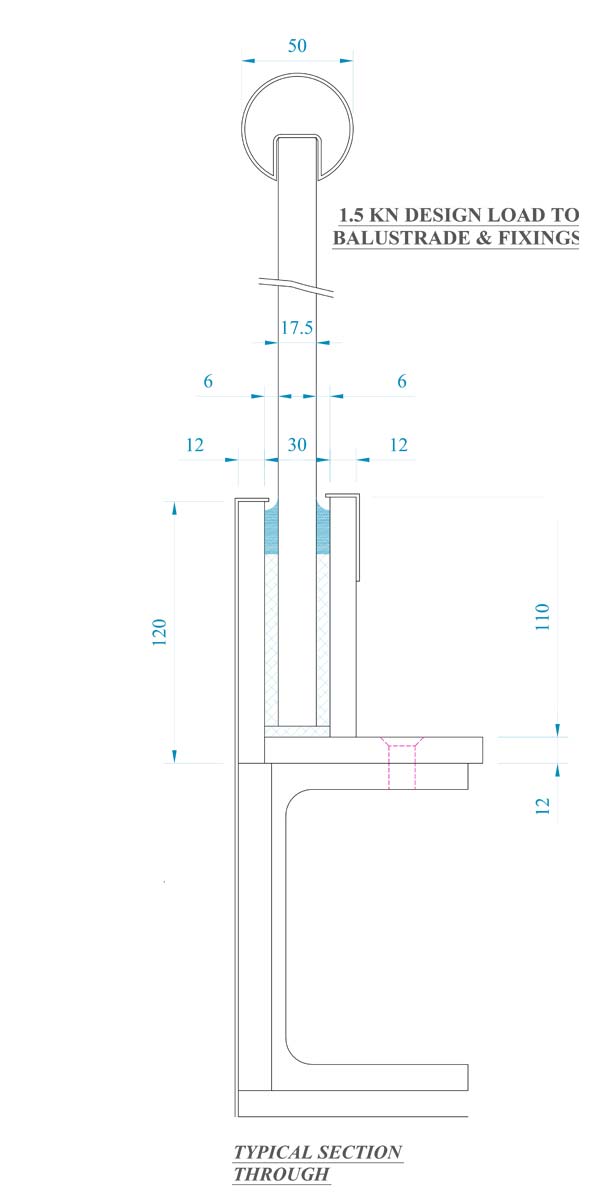 ---
An optional handrail can be provided as a cap to the top of the glass or side fixed allowing flexibility in glass height. These can be provided in the finest quality stainless steel (brushed satin or mirror polished finish) of an appropriate grade for location and use. When side fixed an optional low maintenance lighting can be concealed in the underside of the handrail which offers the benefit of illuminated edge protection without the problematic highlights and shadows that spot lighting creates. With the flexibility of our cutting-edge LED strip lighting any range of mood lighting can be achieved including warm or cool tones in classic white or a variety of colours.
Glazing can be provided in clear, frosted, coloured, etched or fritted finishes to bespoke sizes and various loadbearing capacities in heat soak toughened laminated glass to comply with building regulations.
All balustrade is designed and manufactured in-house to exacting quality standards, building regulation approval and DDA guidelines.
Please feel free to contact one of our friendly team to discuss your project and what we can do for you.
---