Architectural Metalwork Installations News
7th May 2020 - AMI Sheffield Are Fully Operational
AMI Sheffield are pleased to announce that we can offer the very best turnaround times guaranteed in the UK for Balustrades, Balconies, Stairs, Canopies and Structural Steelwork. We are 100% operational, ensuring the wellbeing of all involved at the company including staff, suppliers and clients. If you are looking at a development project for 2020 or into next year we are ready to take your call and enquiry.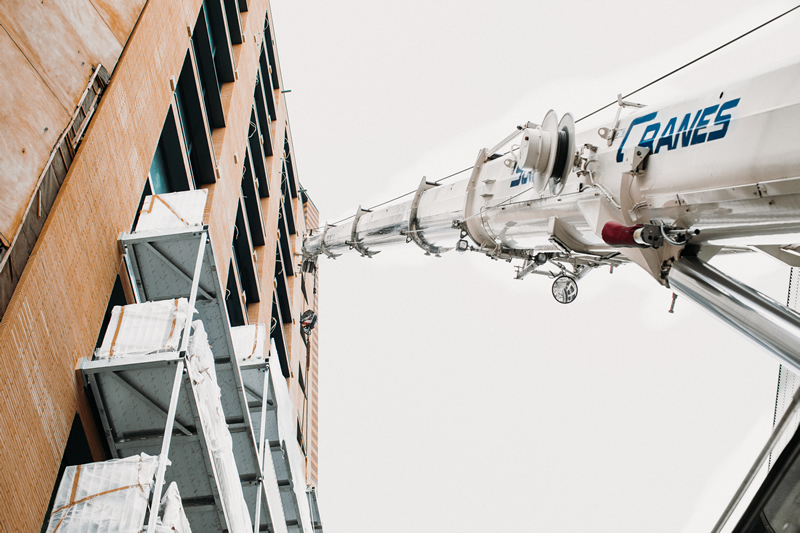 Our design and estimating team is full of talented professionals that are behind the delivery of every AMI project. We are proud to say that we are a group of skilled, motivated and dedicated experts who are inspired to be better every day. We are incredibly proud of the people who make our business what it is. Have a look at our Careers section for more information about joining AMI or have a look at our recent projects page to see the type of work we design, manufacture and install.
Read More
2nd April 2020 - Operational Update for Coronavirus COVID 19 & AMI
Due to the UK governments recent announcements regarding the Coronavirus (COVID-19) situation, Architectural Metalwork Installations would like to reassure all of our clients that we are working towards maintaining business operations with the health and wellbeing of our staff being paramount.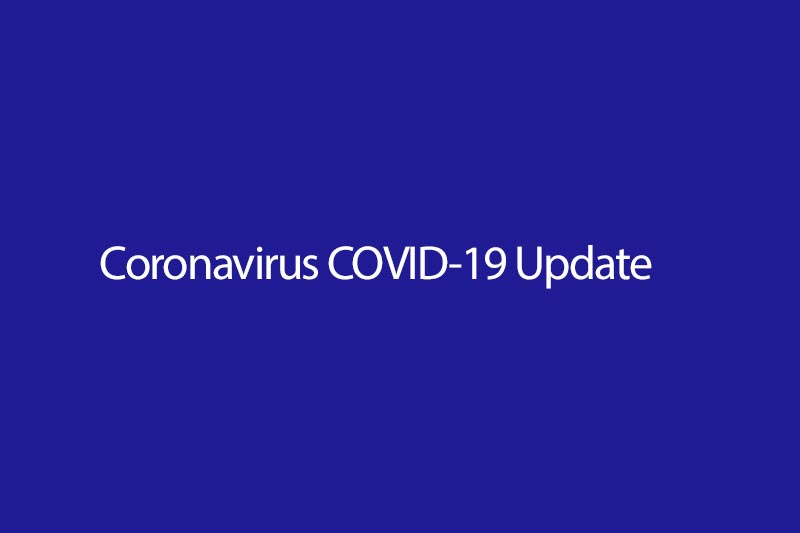 Our office and manufacturing facilities are temporarily closed until further government advice. The following departments will be open working remotely:
Contracts & Administration
Estimating & Sales
Design
Finance
Health & Safety
Please email info@ami-sheffield.co.uk for more information.
Read More
6th March 2020 - Balcony & Balustrade, Stairs, Secondary Steel Project For Bennett Construction
Bennet Construction offered a tender for Balconies, Balustrades and Secondary Steelwork for the Hounslow House development for. AMI provided design, manufacture and installation of all balustrades and secondary steelwork a 6 month period with a contract value in the region of £1.0 million.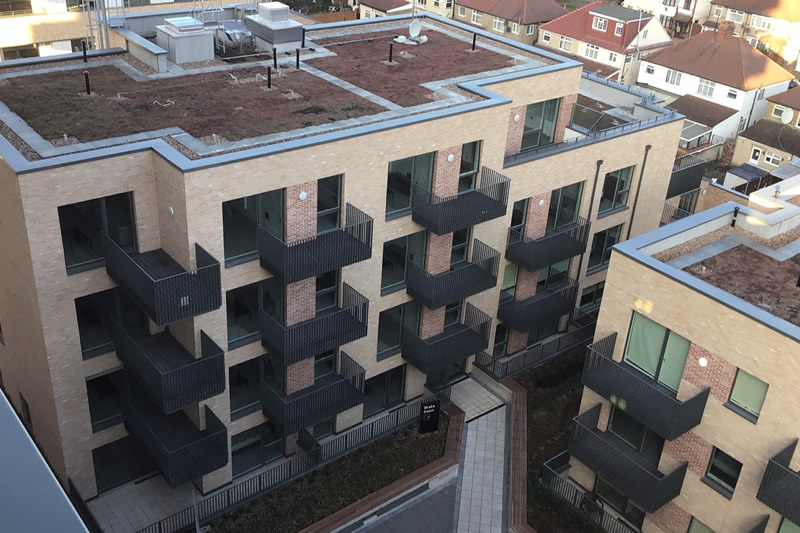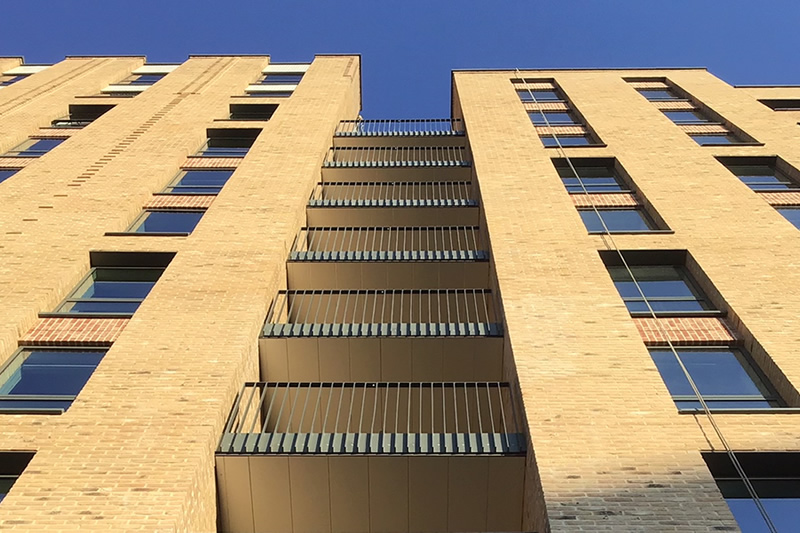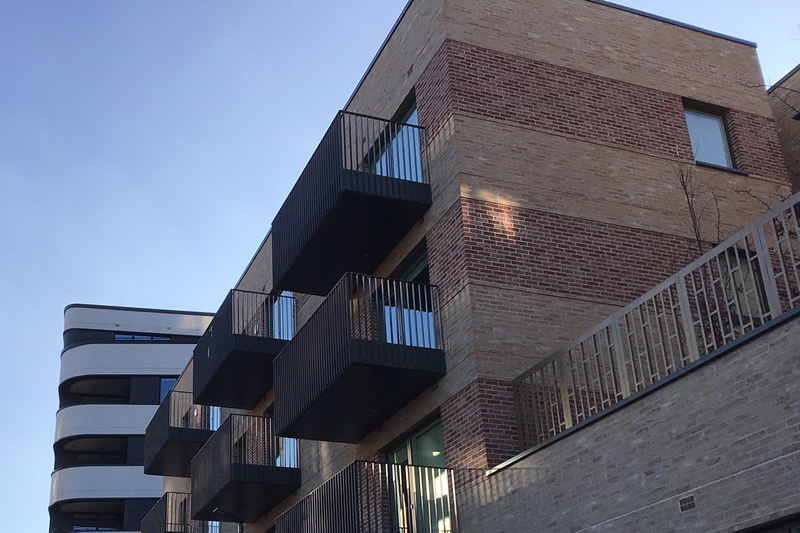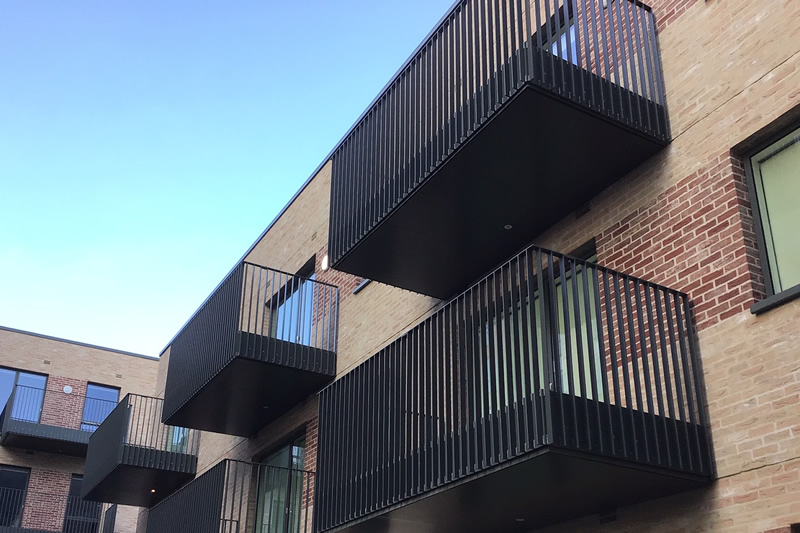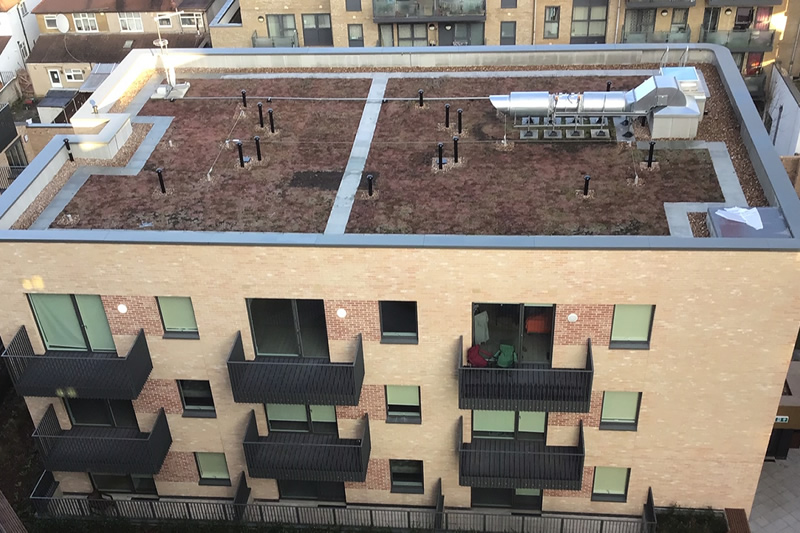 The scheme comprised the construction of 14 townhouses, 290 residential units located in 9 blocks containing 1, 2, 3 bedroomed apartments with duplex accommodation in various configurations. There was also a mixed use element to the £70 million 2 year development project located in Hounslow, West London.
Read More
20th February 2020 - New Website Launched
We have recently launched our new website offering information of our design, manufacture, installation and commissioning products and services. The new website offers a showcase area of our most recent projects allowing for full visual project representation along with project details including main contractor, project value, project timescales, project location and the products installed.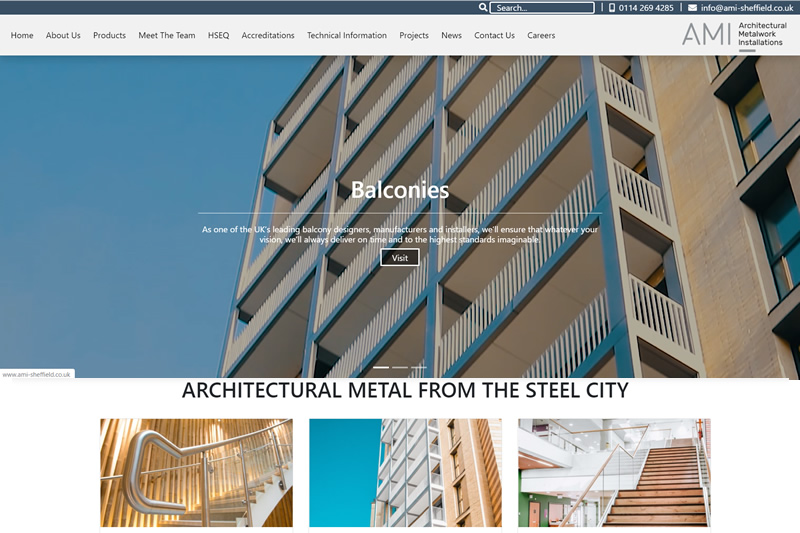 At Architectural Metalwork Installations Ltd we put a huge emphasis on quality and our main aim is to supersede all of our competitors in this area, not just in our final bespoke products whether that be balustrade stainless steel feature stairs or structural canopies but also quality in the level of service we offer to our clients and customers. Architectural Metalwork Installations Ltd are also CE Approved.
Read More
16th January 2020 - Balustrades & Secondary Steelwork Project For JLR Developments
Balfour Beatty Major Projects offered a tender for Balustrades and Secondary Steelwork for the National Automotive Innovation Centre (NAIC) in Coventry for the University of Warwick. AMI provided design, manufacture and installation of all balustrades and secondary steelwork a 14 month period with a contract value in the region of £1.9 million.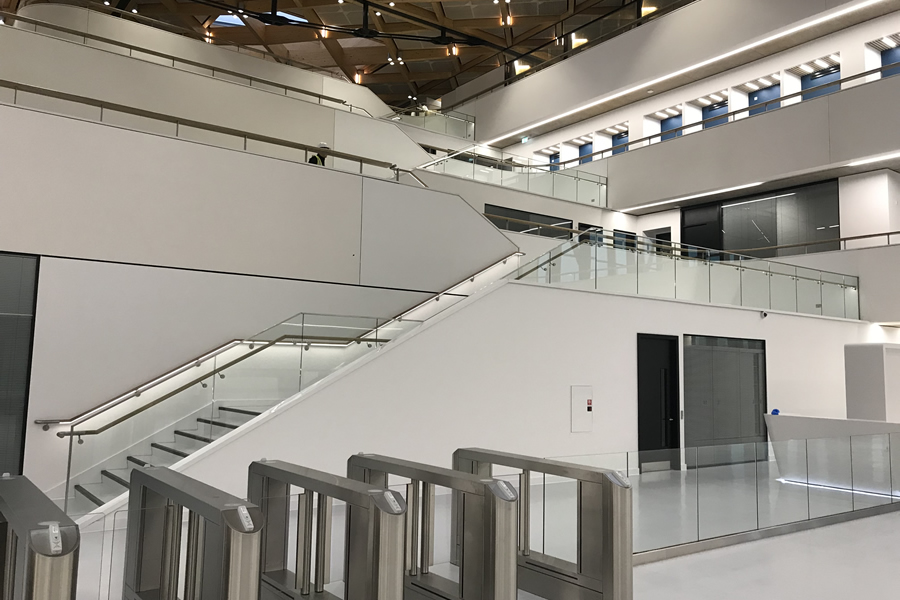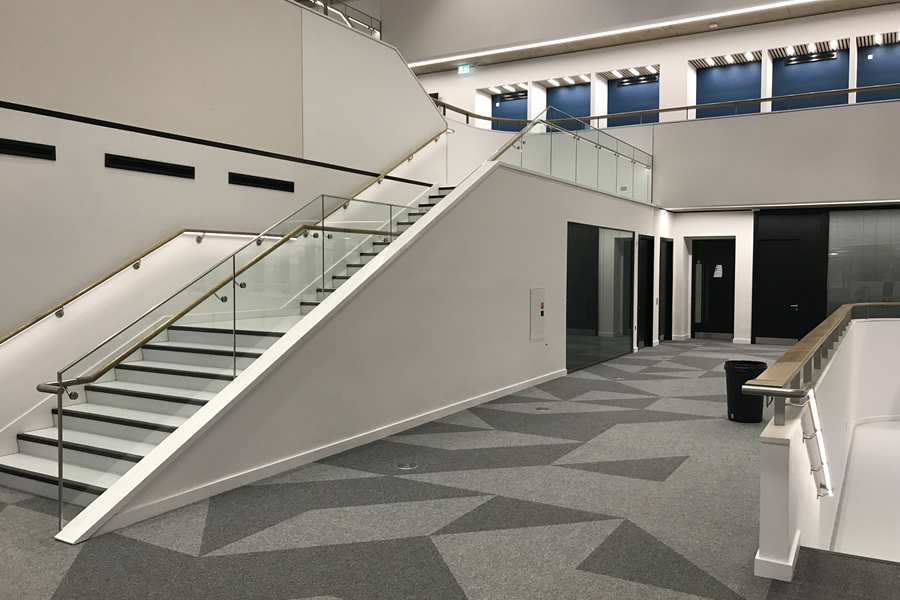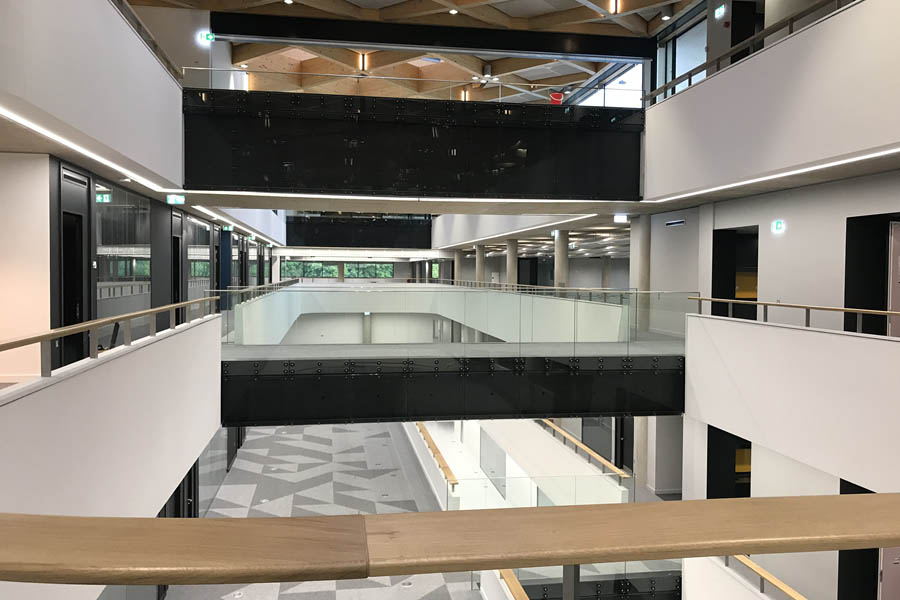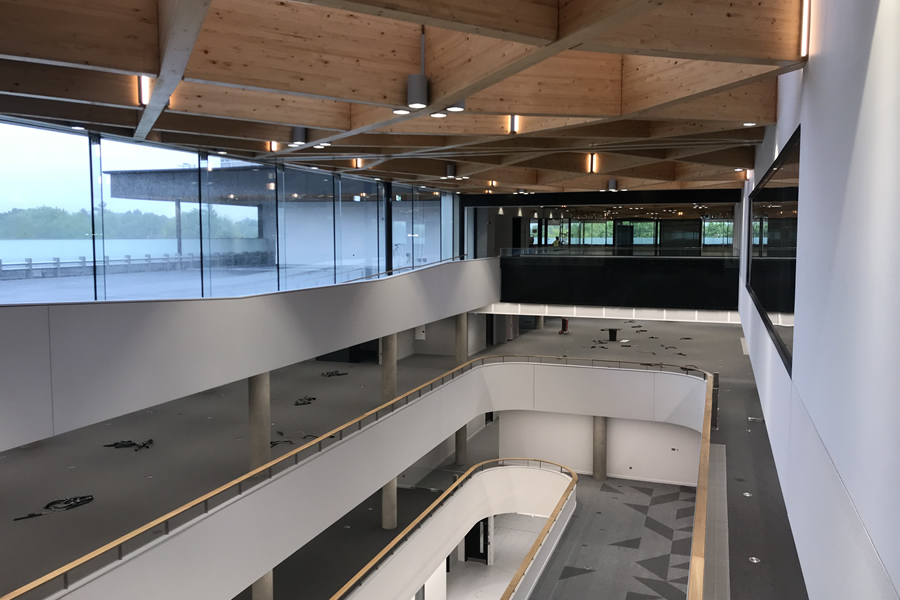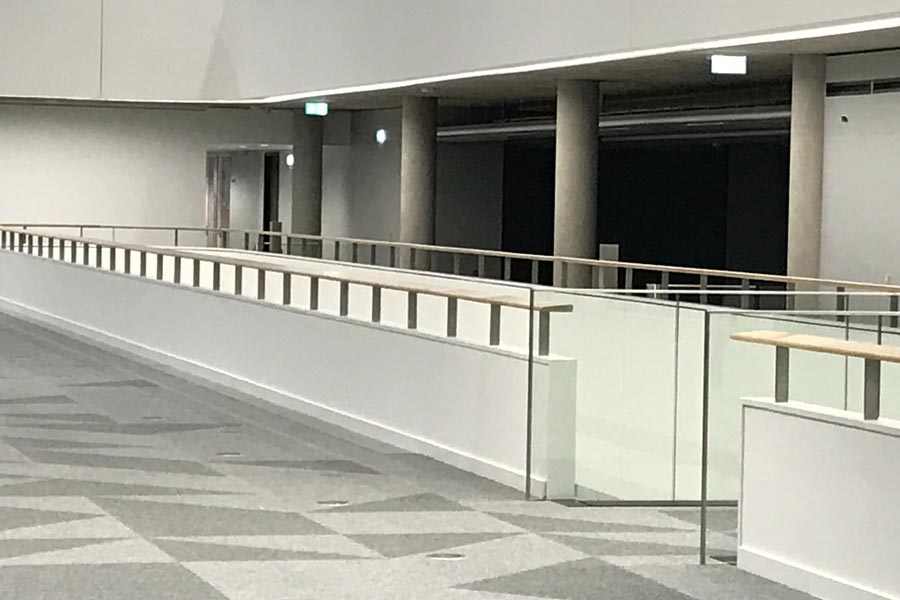 The 33,000 square metre development on the existing main campus of the University of Warwick site involves the construction of a four-storey 'L' shaped building that will house state-of-the-art teaching, research and development, design and engineering facilities, centred around collaborative workspaces.
Read More
3rd December 2019 - Balustrade & Stairs Project Completed At The Cavendish Building
BAM Construction offered a tender for Balustrades and Stairs at the Cavendish Building in Sheffield. This project was part of a Sheffield CIty Council development showcase the Sheffield Retail Quarter, which includes a new city centre location for HSBC and associated retail and business units. AMI provided design, manufacture and installation of all balustrades and stairs over a 12 month period with a contract value in the region of £1.3 million.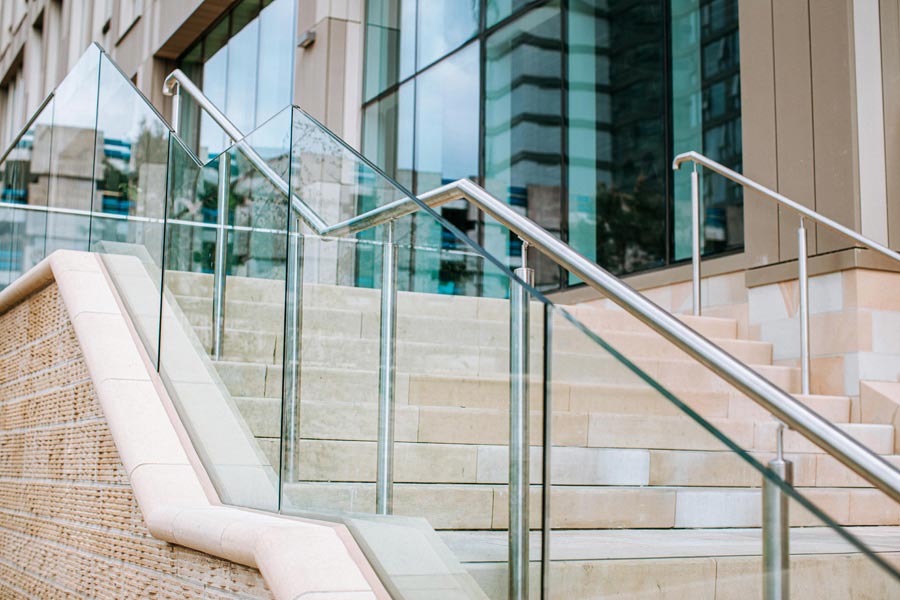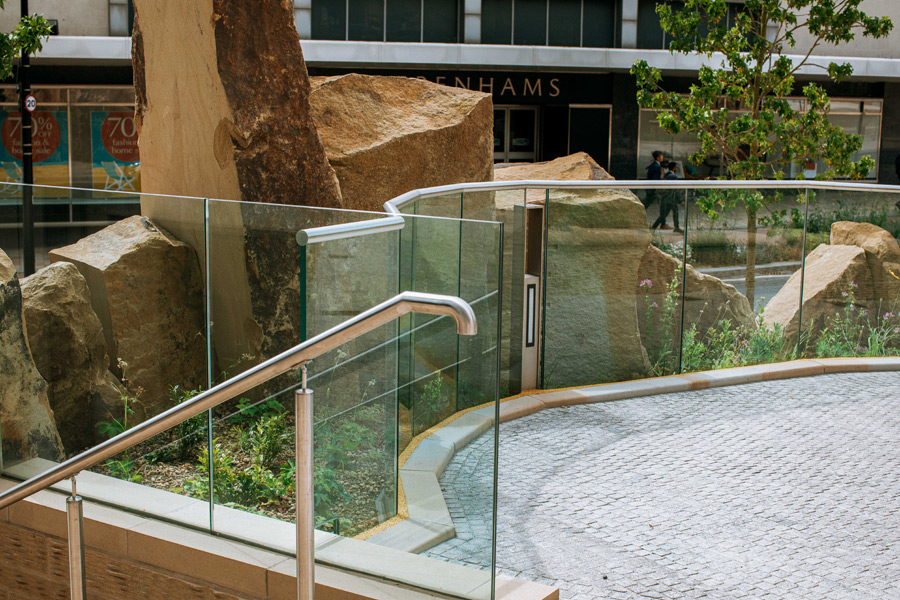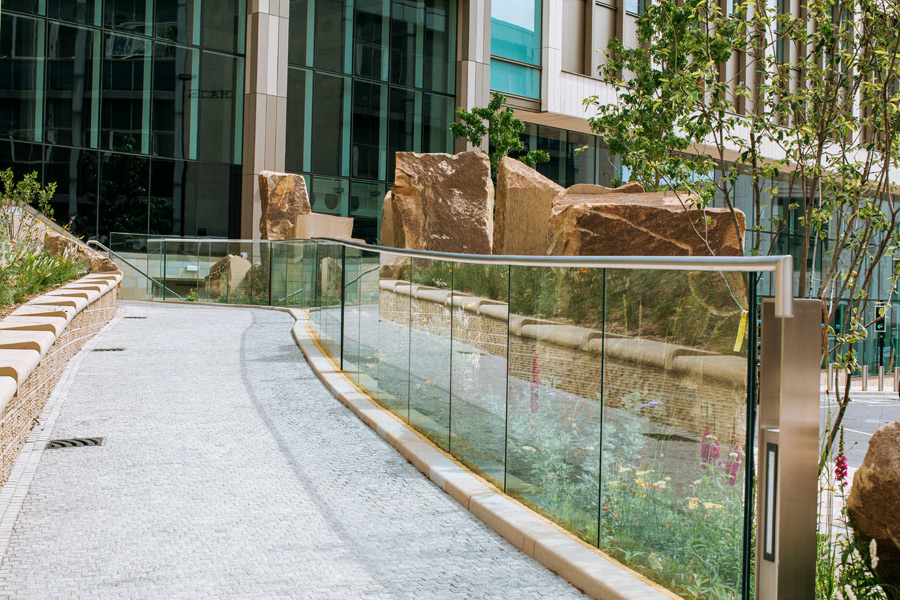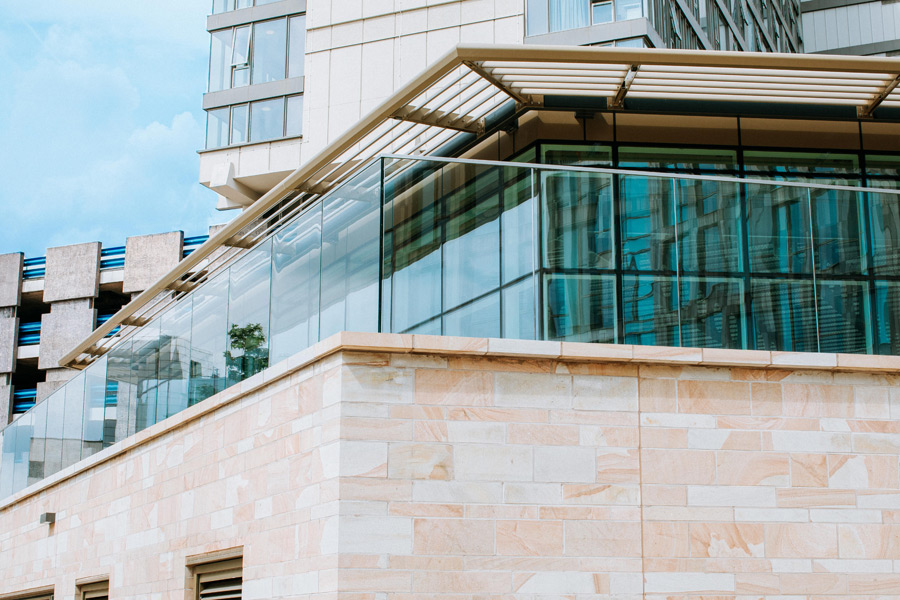 Work on site was undertaken over many phases of the Sheffield Retail Quarter, which includes 160,000 sq ft of office space and around 57,500 sq feet of retail space. HSBC has signed as the anchor tenant on a 15-year lease which commits a vitally important employer to the city centre. Main construction activity is now completed and at the time was the most significant project in Sheffield with a demanding and complex scheme, requiring a well-developed suite of skills and expertise, and a modern approach to technology and collaboration.
Read More
7th November 2019 - Balcony & Stairs Project Completed At Camden Lock London
We recently completed a large balcony and stairs project for Mace Construction at Camden Lock Village in London. This prestigious project was part of an urban development in central London allowing for the design, manufacture and installation of all balconies and stairs over an 8 month period with a contract value in the region of £1.9 million.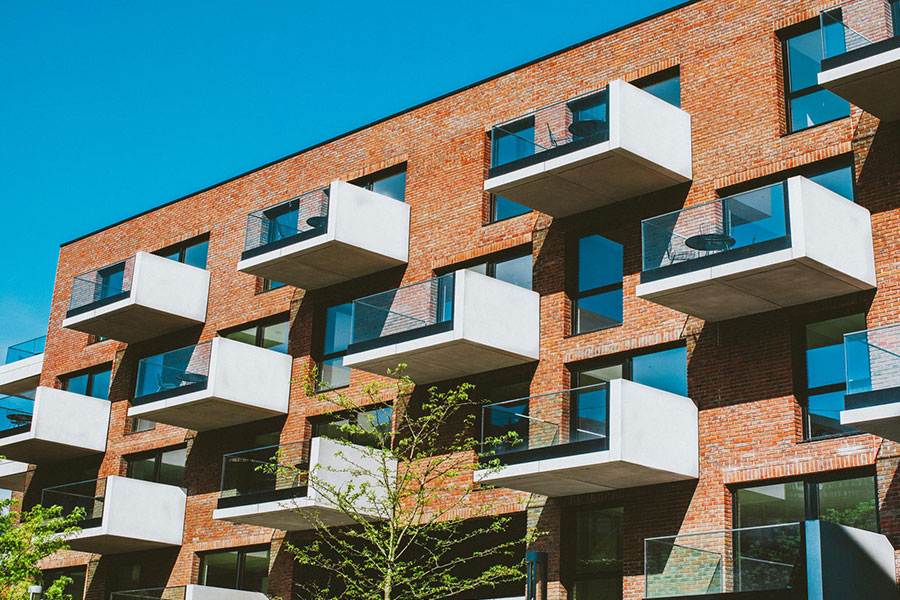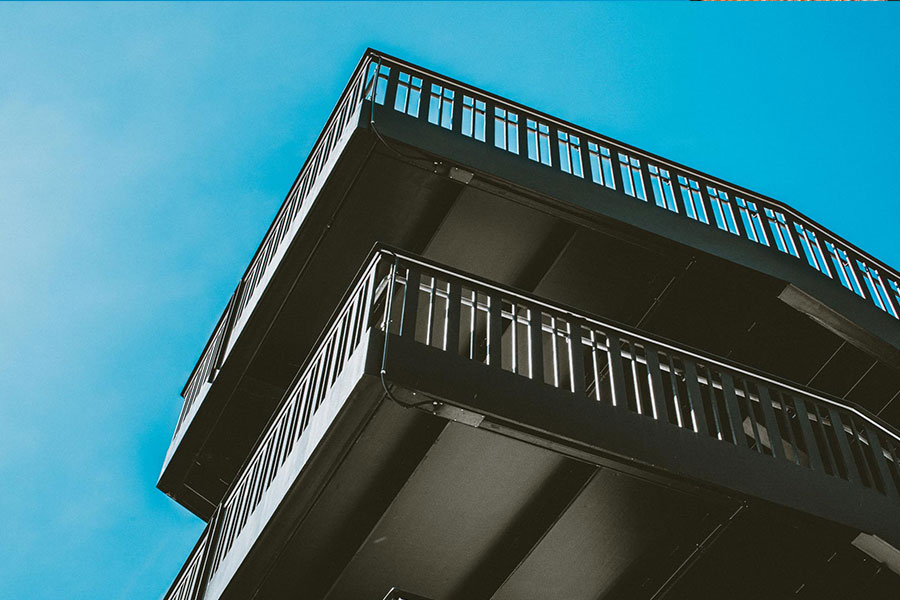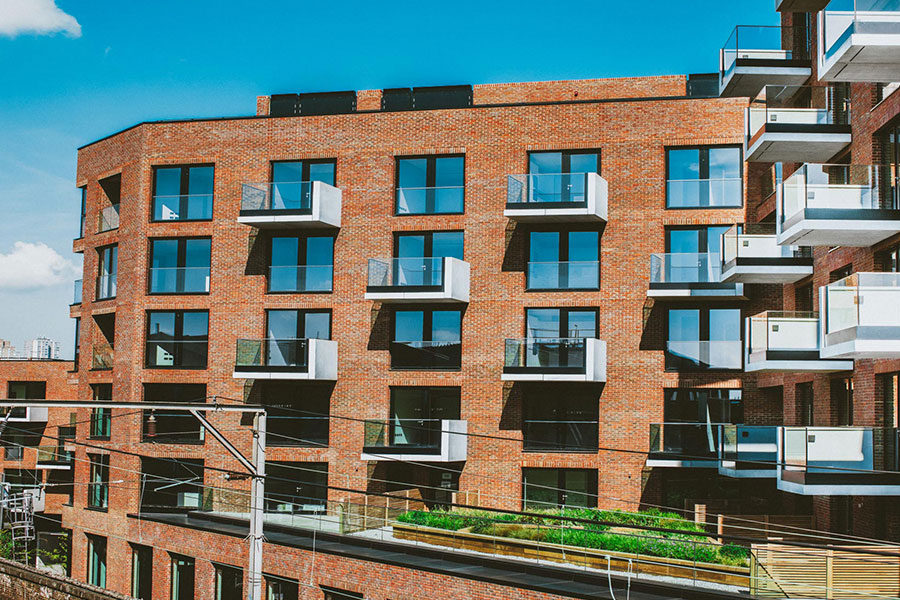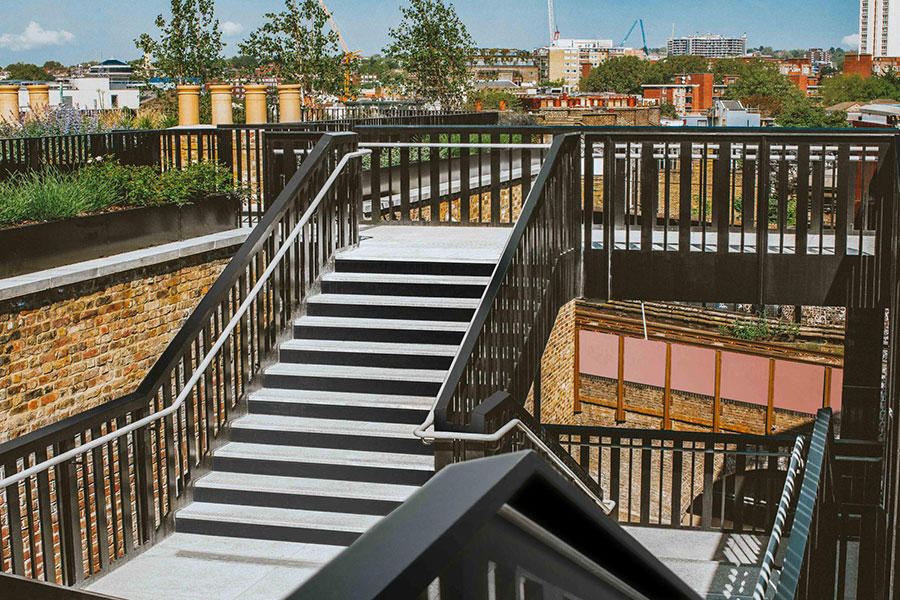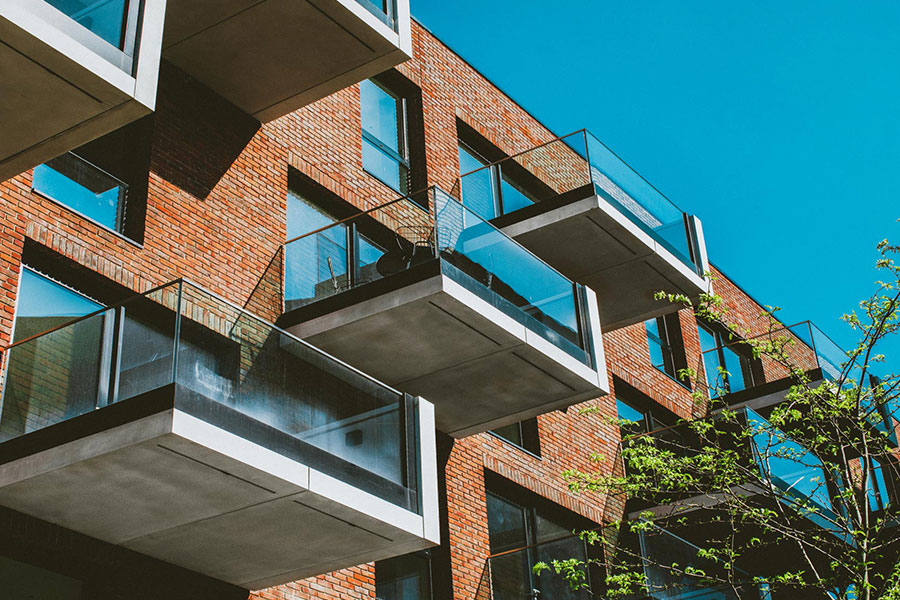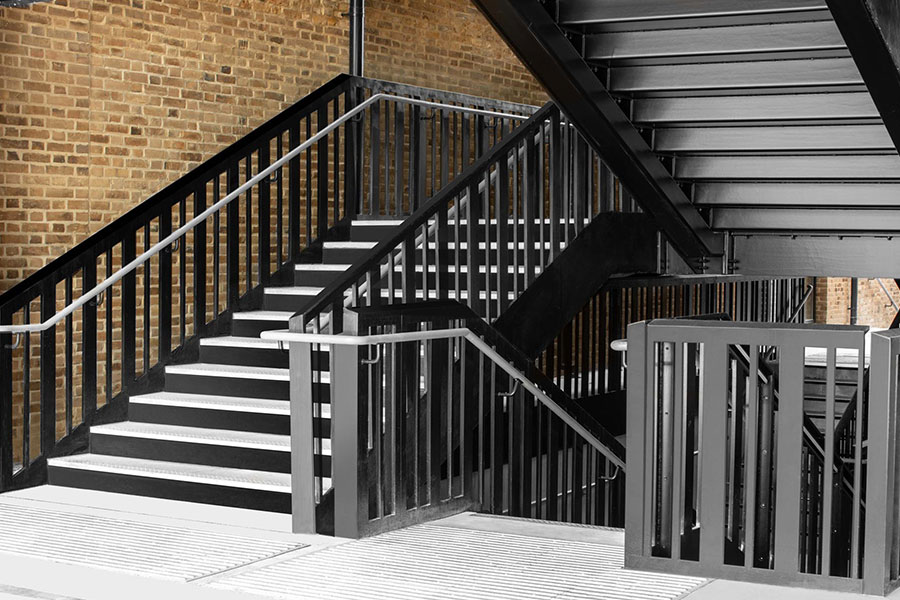 As part of the ongoing regeneration of London's vibrant Camden Town the project was commissioned with Mace Construction as the main contractor for the first phase of the Camden Lock Village development, which includes residential and high-quality public realm construction. When fully completed, the village will feature eight new buildings between three and nine storeys in height, housing a new canal-side market, cafes and restaurants, a cinema, 195 residential units, a food quarter and commercial space. They will be integrated into the neighbourhood via several new pedestrian routes and open air public spaces.
Read More
10th October 2019 - Steel Structure Feature Stairs In Manchester Under Construction
AMI Sheffield are working on a large construction project in Manchester on the MECD Project using a spider crane. All items were supplied and installed with fire paint with final decorative coating to be applied on site.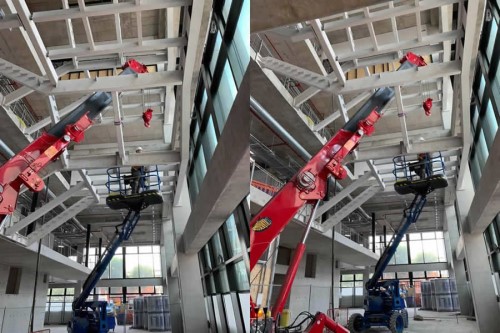 The Manchester Engineering Campus Development symbolises The University of Manchester's push to continually strive to improve its standard of teaching and research. As one of the single largest construction projects undertaken by any higher education institution in the UK, MECD will create an environment for the brightest engineers to innovate. The new development will have real benefits for both industry and society, with the research conducted by our academic staff and students designed to address real-world challenges.
Read More
4th September 2019 - Stairs & Balustrade For The Move More Graves Health & Sports Centre
AMI Sheffield have recently completed a stairs and balustarde project at the refurbished £16m Move More health and leisure centre that has recently opened in Sheffield. The facility, built on the site of the Graves Tennis and Leisure Centre in Norton, includes swimming pools, tennis courts and fitness studios.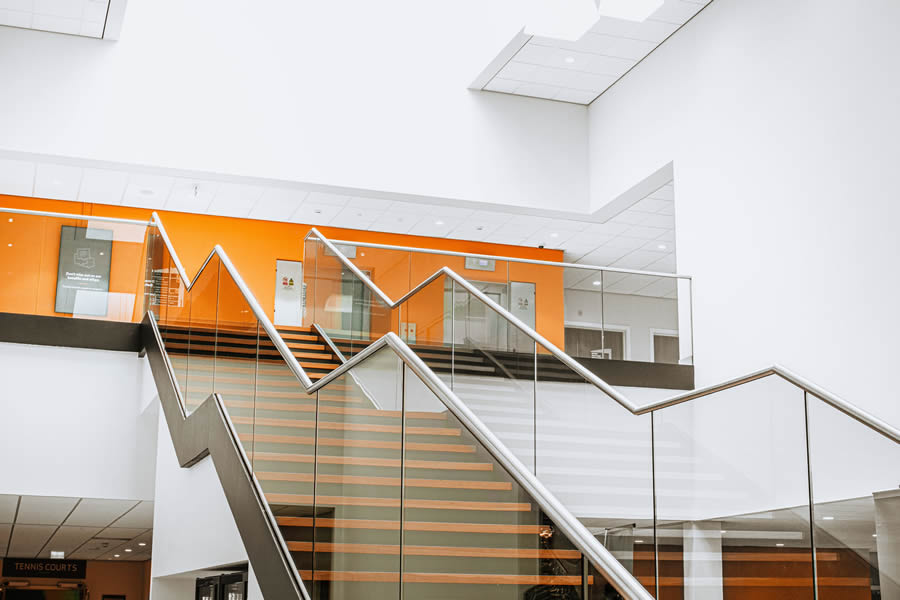 The centre, run by Places for People Leisure, also houses one of three hubs of the UK's National Centre for Sport and Exercise Medicine. Physiotherapists and doctors will be based in its consultation and treatment rooms.
Read More
10th July 2019 - Balfour Beatty & Manchester University Project Underway
We are proud to be undertaking a multi-million pound package of architectural metalwork including structural steel stairs, balustrading, riser flooring and secondary steelwork on this major project for Balfour Beatty and Manchester University. Works on site are well underway and the structure is taking shape nicely giving an indication of the building to come.
The University of Manchester's Engineering Campus Development (MECD) will be a landmark that celebrates engineering within the world's first modern city. Once complete, MECD will be the new home to the University's four engineering schools and two research institutes from the Faculty of Engineering and Physical Sciences.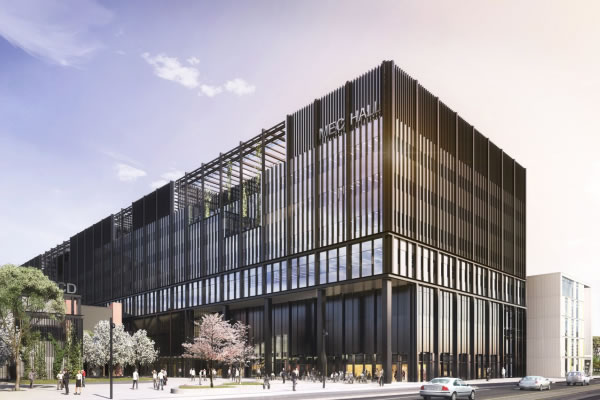 Read More
5th June 2019 - SE1 London Project Completed Balconies
AMI recently completed a bespoke balcony project right in the centre of London within a short distance of the London Chard building. This project was a new build luxury apartment condominium complex of buildings containing a number of individually owned apartments or houses.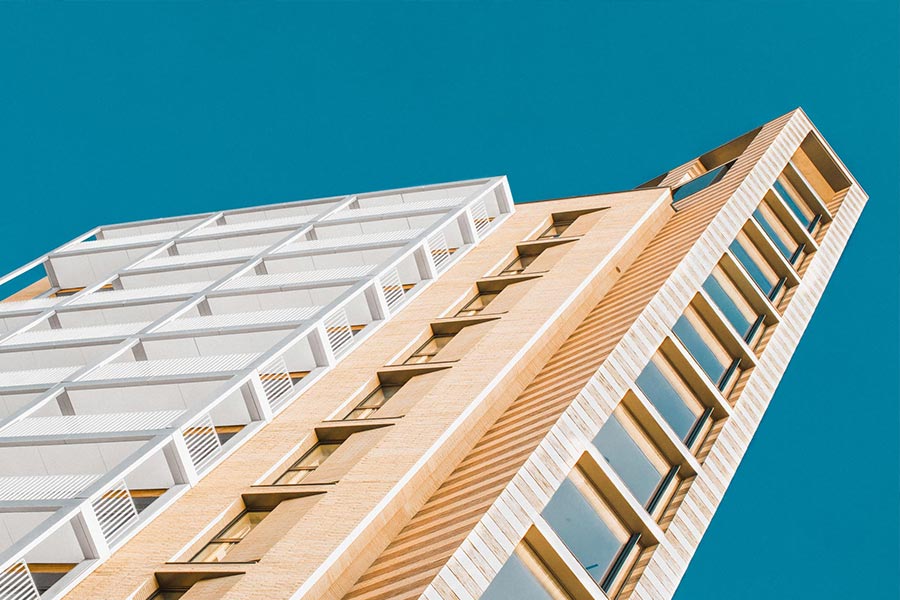 Read More
22nd May 2019 - Quantity Surveyor Vacancy
Architectural Metalwork Installations Limited specialises in supplying and installing balconies, balustrading, staircases, canopies and secondary steelwork to blue chip contractors nationwide. The Company has a well-established portfolio of main contract partners that is continually growing, along with a trusted supply chain. Due to this continuing expansion we have a fantastic opportunity for a Quantity Surveyor to join our existing team. Experience of pricing, valuing & commercially managing elements of architectural metalwork or steelwork in general will be pre-requisite for the role. (This can be from a main contractors perspective as well as directly for a metalwork company).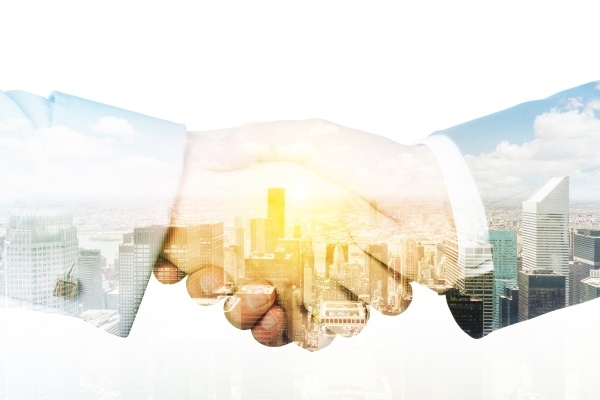 Read More
13th April 2019 - Accreditations Updated
Architectural Metalwork Installations Ltd is accredited with a number of institutions to attain best in class standards and practices for all our operations, products and services. Our accreditations include the Contractors Health and Safety Assessment Scheme (CHAS), the Gold Standard Constructionline accreditation, being ISOQAR Registered, Safety Schemes In Procurement and we also have the Acclaim Accreditation for our Health and Safety procurement.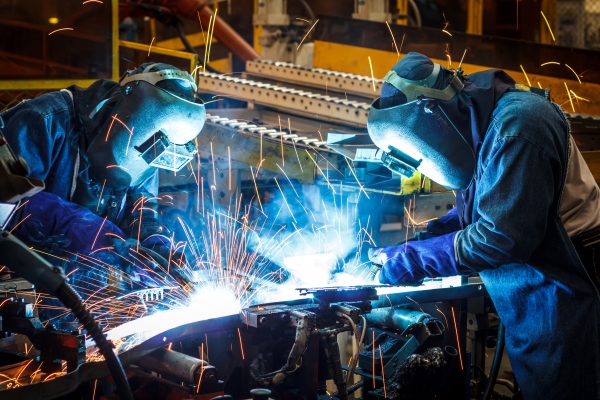 Read More