AMI designed Fire-Tek balustrade - NHBC accepted Fire rated structural glass balustrade
Contact us to discuss both your current and planned projects
YouTube Channel Videos Updated
4th June 2020
During the last 12 months we have undertaken a number of prestigious projects across the UK in all of the major cities. Our work on balustrades, balconies, stairs, structural steelwork and canopies has been documented in our website in the projects section and we are now pleased to launch the AMI YouTube channel. We have four videos showing the very best of our work.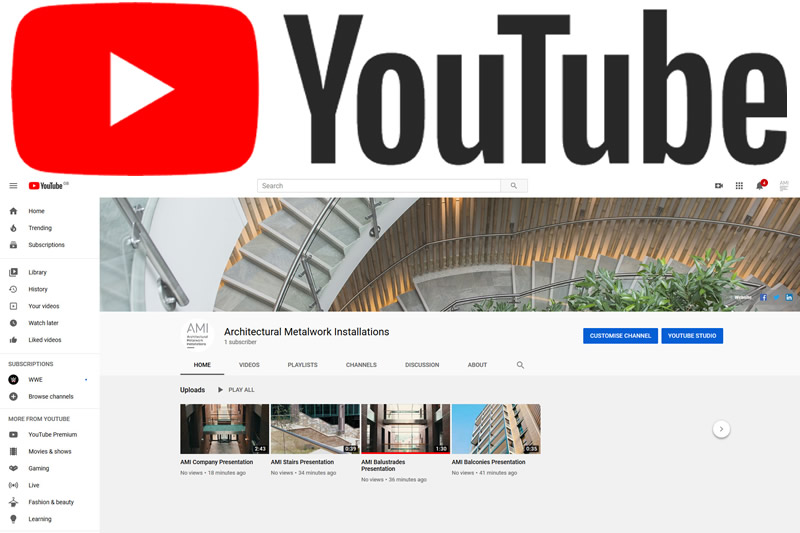 Our design and estimating team is full of talented professionals that are behind the delivery of every AMI project. We are proud to say that we are a group of skilled, motivated and dedicated experts who are inspired to be better every day. We are incredibly proud of the people who make our business what it is. Have a look at our Careers section for more information about joining AMI or have a look at our recent projects page to see the type of work we design, manufacture and install.
AMI Balconies Presentation - As one of the UK's leading balcony designers, manufacturers and installers, we'll ensure that whatever your vision, we'll always deliver on time and to the highest standards imaginable. Find out more at https://www.ami-sheffield.co.uk/balconies #balconies #buildingbalconies #apartmentbalconies
AMI Balustrades Presentation - We have specialised in the design, manufacture and installation of balustrades from our inception providing our clients with a flexible design service allowing for the creation of some truly unique balustrade. Find out more at https://www.ami-sheffield.co.uk/balustrades #balustrades #buildingbalustrades.
AMI Stairs Presentation - The right stairs can be as beautiful as they are functional so choose a designer, manufacturer and installer who can share your vision and turn it into a reality. Find out more at https://www.ami-sheffield.co.uk/stairs #stairs #buildingstairs #apartmentstairs
Other Articles
08th March 2021
02nd February 2021
05th January 2021
22nd December 2020
20th December 2020
22nd November 2020
19th October 2020
24th September 2020
14th August 2020
22nd July 2020